Directed by Julia Thelin –
Push It is a film about never being able to win, even though you're the best. Hedda tries to approach Adam in every way she can, but everything she does turns out wrong. But Adam gets to break all the rules. Push It explores structures, physicality, identity and emotions. With the gym hall as its arena.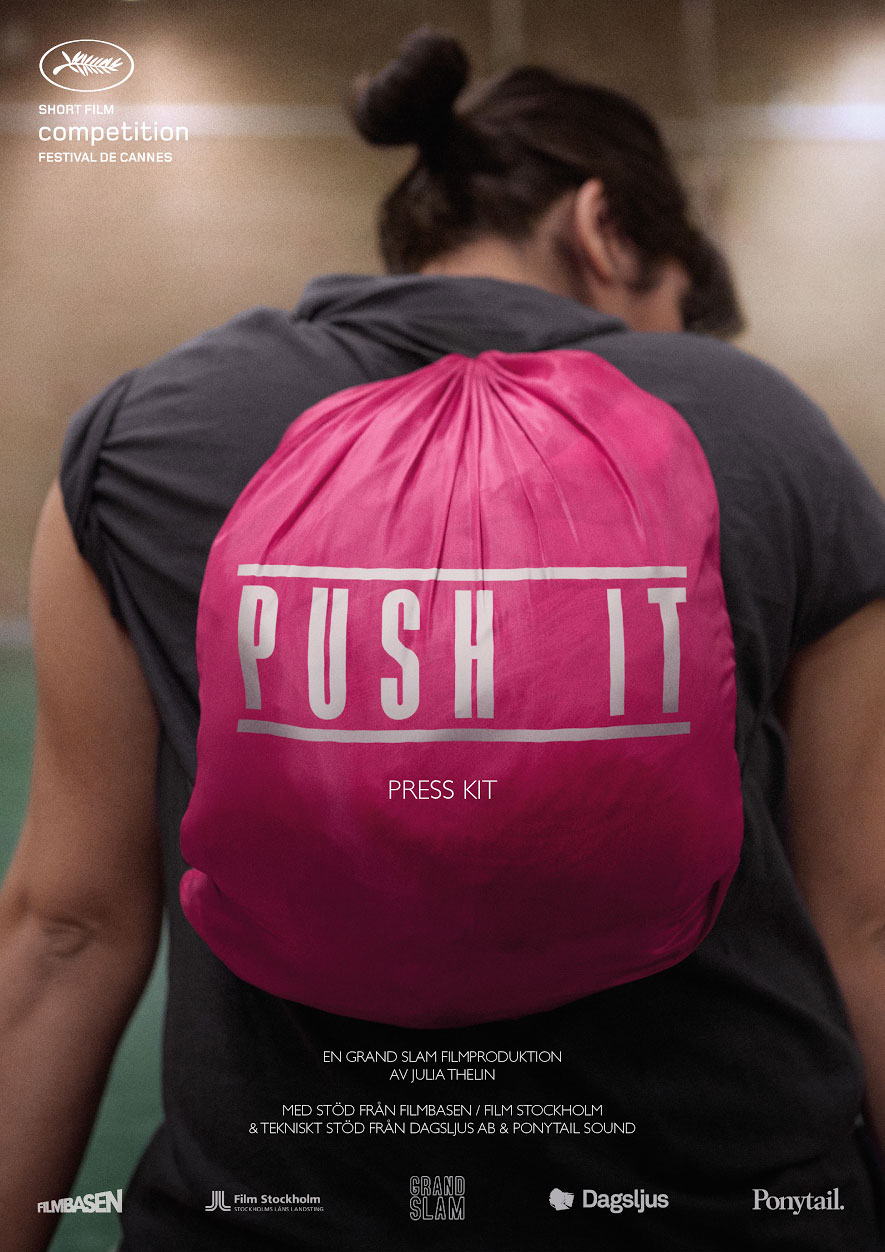 GFM: For our readers who have not yet had a chance to watch Push It, please will you introduce the film and talk a little bit about the inspiration for the story?
Julia: I am interested in environments and social settings and how they affect people. In the case of Push It, the setting I am exploring is an athletics class for teenagers in the school's gymnasium. We meet a girl who is strong and athletic who forms a romantic relationship with a boy in her class. As they partake in the class activities they begin to compete with each other in a spontaneous game, which she wins. However, the boy and the rest of her classmates will not admit to her winning the game and the boy tells her she doesn't know the "rules". To a large extent, the film is about gender roles and the societal constructs that she is up against.
GFM: Could you elaborate on your intentions to shine a light on traditional gender roles and issues surrounding gender-fluidness? What are some of the main ideas you are exploring in the film, and generally in your work?
Julia: My aim is to explore a female character who is physically competent, but whose abilities do not exceed those of the average teenager, which challenges the preconceptions of the people around her when she unexpectedly wins a game. This idea allowed me to consider the way in which society shapes you by the judgments they make about you, especially in a group context. Due to the lead character's inability to receive the recognition she deserves, it highlights the impact a group of people may have on you.


GFM: How did you approach casting the children and what was your experience of working with them?
Julia: Originally I was working on a longer film and began casting for it. It was during that process that I discovered the girl who plays the lead in Push It. She inspired me to conceive of a new and shorter film. I liked her personality and thought she was interesting and I knew I wanted to work with her. The idea for Push It was sparked by her but the themes and scenes were inspired by other influences. Working with the rest of the kids was a fantastic experience. I am also working with a casting agent who has a very good eye. You need that if you are working with amateurs and it's important to give them the space to develop.
GFM: Please would you talk about working with the short film format and the role that it plays in your career?
Julia: I don't think that short films are given enough appreciation. This is possibly due to their place in traditional film contexts not yet being fully established, as well as the fact that people are not familiar with the directors who are making short films. For me, this was really about experimenting with a concept and structure. This is a fragment of a bigger idea that I will continue to explore and make stories about. I would like to go further with this theme for characters, however, in the case of Push It, I don't think the story or themes needed to be explored in a longer film format.
I think short films are a good format to learn about the filmmaking process, as they allow you to take it one step at a time. However, the financing involved in making short films in Sweden is a bit problematic. Of course, you don't want anyone to work for free, but a lot of shorts are done that way, which is kind of sad. There are far less complications when it comes to making feature films. I think it should be easier to make shorts because they are an important tool to get your work off the ground and to give you exposure, which generally leads to opportunities to make longer films. There is another challenge when it comes to producers. Generally, they are not interested in making short films if they don't know the director. Furthermore, the distribution process is tricky, with regard to where and how these shorts may be viewed. I am interested to see whether the distribution of short films improves in the future in order to reach wider audiences and fans. There is a trajectory for these shorts, for example, they need to go through film festivals before they are likely to be distributed. I am not too concerned about that, so Cannes came as a really happy surprise.




GFM: What does it mean to you to be going to Cannes with your film In Competition for the Palme d'Or?
Julia: To be honest, I haven't thought about it before. Naturally, I've thought about my favourite filmmakers and the amazing films premiering in May at the festival every year and what a dream that would be for me. Of course, I was surprised when they called. It's a big deal for one's career, and it makes you seem more interesting in a lot of people's eyes, but most importantly it's a good opportunity to meet new people. That's what this is for me. It's going to be really nice to meet a lot of people and explore that part of the filmmaking process.



director Julia Thelin