Directed by Fiona Godivier –
Arizona 2016, the portray of an American family at the Mexican border. One evening, as the mother is costly watching TV with her daughter, the father and his son get their rifle prepared for a patrol tour along the border wall.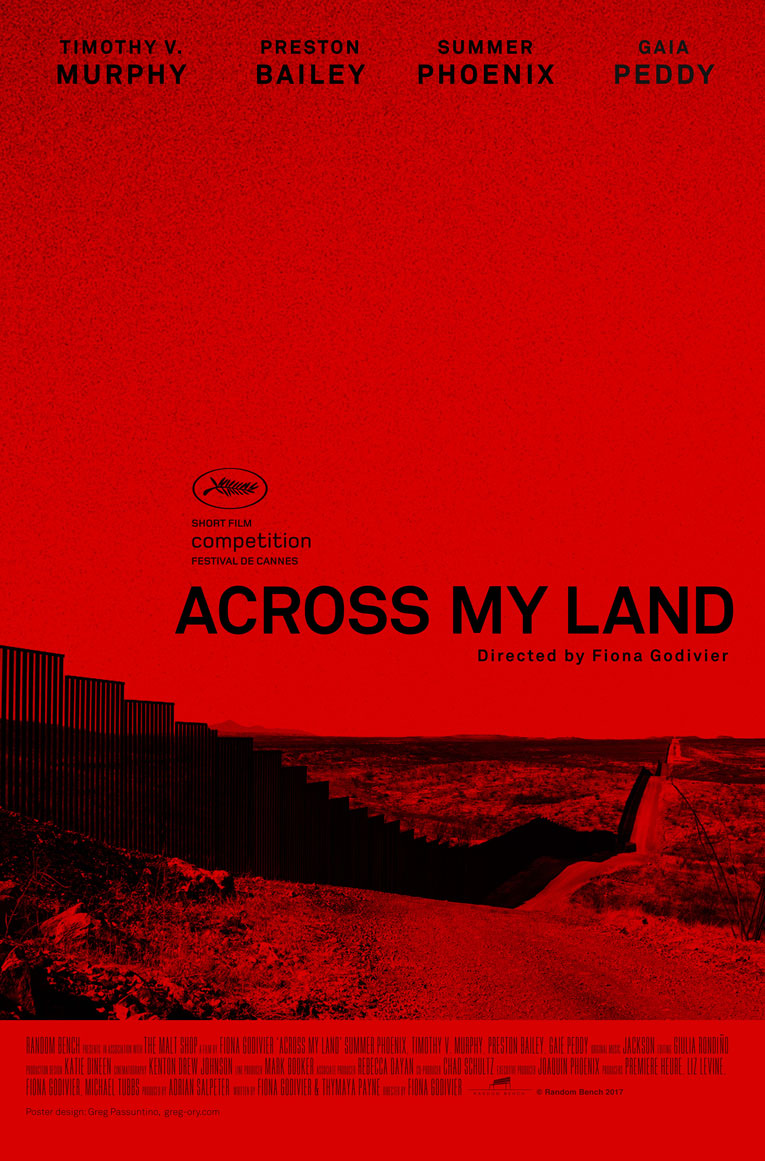 GFM: Across My Land is a very sinister portrait of the realities facing US families and immigrants at the US-Mexico border, such as racism, segregation and violence. What drew you to this subject matter and what did you set out to convey in telling this story?
Fiona: The problem you're referring to is not only an American issue, we know about walls everywhere – the wall of Jerusalem, in Hungary and in Ceuta in Morocco. There are also unbuilt walls, such as the one Marine Le Pen is dreaming about, as well as the conservative party emerging on earth. So, this problem is very much one facing all young people and humanists around the world. Fear is reigning and it's well organised by the dominant powers. This fear sinks into all foundations of our society. For example, in my short film we see a very religious family whose religion supposedly carries a message of loving one another. The fear that inhabits the members of this family drives them to carry guns and cultivate hatred of others.




GFM: Please can you discuss the emphasis on the influence of violence on the children, as we witness the efforts the son takes in cleaning and building a gun and the daughter's simulation of firing a gun later on in the film?
Fiona: Those kids are learning from their social environment, school and religion. The idea that they must protect themselves is so obvious that carrying guns seems like the only logical thing to do. In the film, the audience takes notice of the violence through the image of this little girl simulating firing a gun and of this young boy manipulating a shotgun, but what is profoundly sad is these images are now merely banal.
GFM: What challenged you about making this socio-political film and what kind of stories are you generally interested in telling?
Fiona: It may not be obvious, but I am profoundly revolted by inequality and injustice around the world. Any kind of injustice in the world deserves to be called out. I hope to contribute to bringing light to those issues with cinema as my weapon. The stories I want to tell are those just outside of the bubbles that some of us, who are privileged, live in.
GFM: I've read that you are inspired by filmmakers such as Werner Herzog, Jacques Audiard, and Ken Loach. What aspects of their approach to social realism and documentary filmmaking interests you or impacts your work?
Fiona: What inspires me is the documentary aspect of their work, as well as their intimate portraiture, their attention to the psychology of their characters and the thorough research of their subject matter. I am touched by their ability to show broken dreams as well as undying hopes. I aspire to have a similar approach in order to expose simple reality. I hope to help audiences understand the complexity of certain situations and to truly see the essence of the characters in the stories that I tell, beyond a political observation.




GFM: Please can you discuss Joaquin Phoenix's involvement with the film?
Fiona: I think that like many Americans, Joaquin is very disturbed by the state of politics in the United States. I had the opportunity to meet and talk to him about my project and he found enough interest and motivation help me develop and produce the movie. It was inspiring to share ideas with someone as passionate about cinema as he is.GFM: The film's score is particularly emotive and ominous. How important was the use of music to you?
Fiona: Very Important. Music and image function as one in my opinion – I can't think of one without the other when I'm developing an idea. However, silence is equally important to me. I worked with Jackson on my first short film and it was obvious to me that we would work together on this one. Together, we looked for a way to colour, heighten or sometimes dim the content of the film with sound and music.




GFM: How do you feel about going to Cannes with Across My Land having been selected to compete in The Short Films Competition and what are you hoping to take away from your experience?
Fiona: What more can you dream of than to be part of the official selection of the Cannes Film Festival? It's a unique opportunity to show my work and share my ideas, as well as meet and interact with many passionate filmmakers. I also have new projects I'm excited about.



director Fiona Godivier