Directed by Alan Barillaro and Marc Sondheimer –
Young Piper, a sandpiper hatchling, leaves her nest for the first time to hunt for food but is too scared of the crashing waves to reach the yummy morsels hidden in the sand. After meeting an unusual ally, Piper attempts to face her fears and increase her confidence.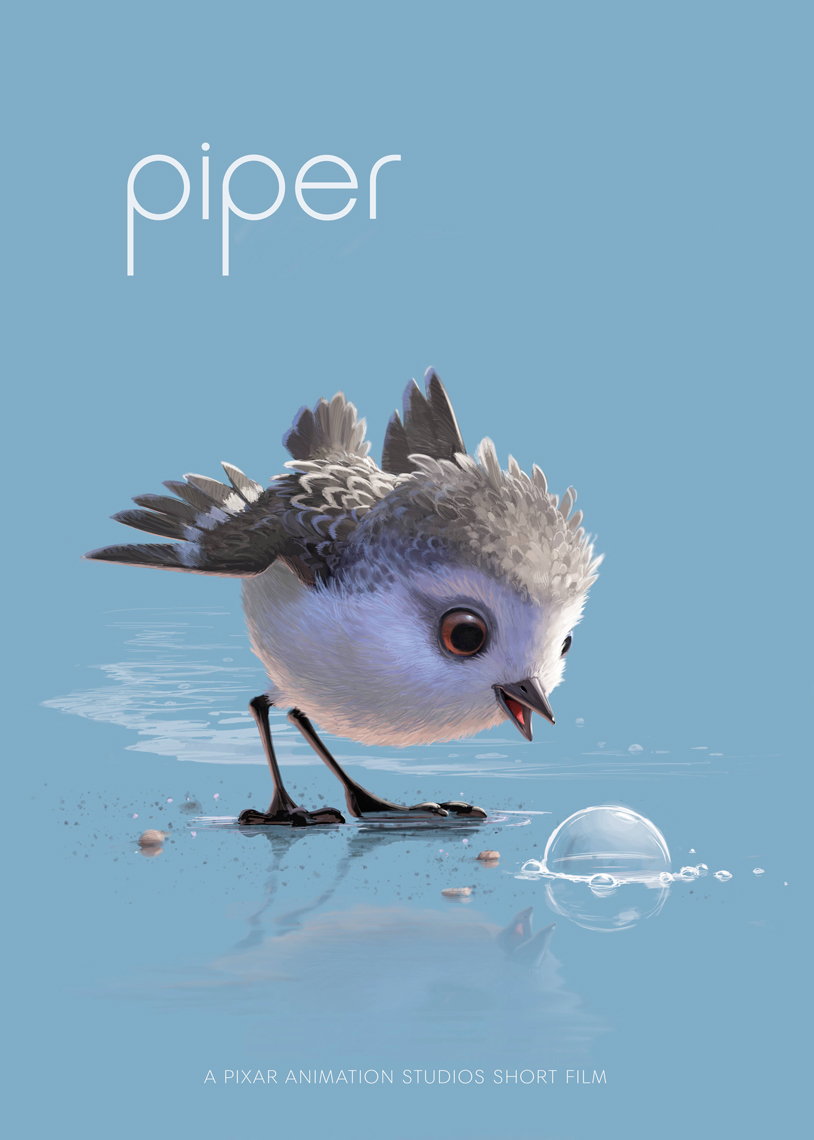 GFM: Our readers love to hear about origin stories and how a project gets off the ground. Please start by telling us how you came up with the story of the mother sandpiper teaching its child to survive.
Alan: Absolutely! These stories come from little ideas that you don't expect to become much bigger. I am an animator and keep a sketchbook in my pocket. I will come up with something and think, 'it would be really cool to make a story about that one day.' I was watching birds running across a beach and had one of those moments where I realized there is a lot of character here, and I started animating that.
I didn't expect to make a short film – that was not my intention when I started – but I was working on this little story and the studio was very interested and I was excited by that. When I dived into the story it quickly became personal. You start asking yourself, 'what are you truly going to say? That is a cool character bit, but what are you going to talk about?' Having three kids and this being my first film, I also found myself (whether I like it or not) talking about this character who is afraid of something and playing into some of my own fears. These are fears that I have for my own kids when they grow up and start making their own decisions and feeling confident in the world – concerns such as allowing your kids to grow up and not hovering over them the whole time. It's from there that Piper evolved – out of that kind of emotional and personal place.
GFM: Not to question the internal workings of Pixar too closely, but would you tell us about the process from developing an idea to it being green-lit and eventually nominated for an Oscar?
Alan: Sure, I can give you all the details. There is usually a lot of development, as there are so many talented people coming up with story ideas. When the studio feels it's ready, they pull certain ones into the pool. Also, it's Pixar, and we are just trying to innovate and do as much as we can, in an odd way. I was working on this idea on my own with a lot of software, and the story came out of that in an unexpected way. Everyone was very supportive. I think that says something about the environment in which we work, the collaboration involved and putting the art first. I think what I learned from this short film is that all filmmaking is, is people having a drive to say something, and they are just scrambling to grab things to find ways to express themselves.




GFM: How do you approach research when you are animating nature, for instance a flying bird or the ocean?
Alan: I think it's like any actor, you want to do all your research up front and then put forward characters you really believe in. I animated all the scenes, but in terms of directing it meant immersing myself in that world and looking for character traits that I felt I could use. It's not a bad thing to say I have to go to the beach a lot with my kids and grab shells and look at them and think, 'that would be a cool one to animate.' My daughter found the shell we used for the crab – that beautiful orange-color one. It would be the same for anyone as there isn't much to intellectualize. You would see something eye-catching on the beach, go over and see it and be amazed like my daughter and I were when we found the snail shell. It's a beautiful orange. We found it at Half Moon Bay, for anyone who is interested. I picked the right day to take my kids.
GFM: You have worked at Pixar for almost 20 years, first as an animator then a supervising animator and now a director. Would you talk a little bit about that career trajectory?
Alan: I was extremely lucky and fortunate. I started 20 years ago and didn't know anything about computers. I come from a drawing background and I was in a place that really embraced that. Pushing this art form as far as you can was kind of everybody's mantra at Pixar, as well as saying as many personal things as you can with these stories. I've been very fortunate to have have had the opportunity to listen to great directors and watch them make movies. I've also been shocked by how honest and personal what they're trying to say is. These are big movies and you can look at them as big filmmakers, but truthfully these are individuals that you end up knowing, who are really just trying to express themselves. I try to take that to heart as much as possible. That was my approach, and hopefully what you are seeing is a very specific look that is unique to me as a director.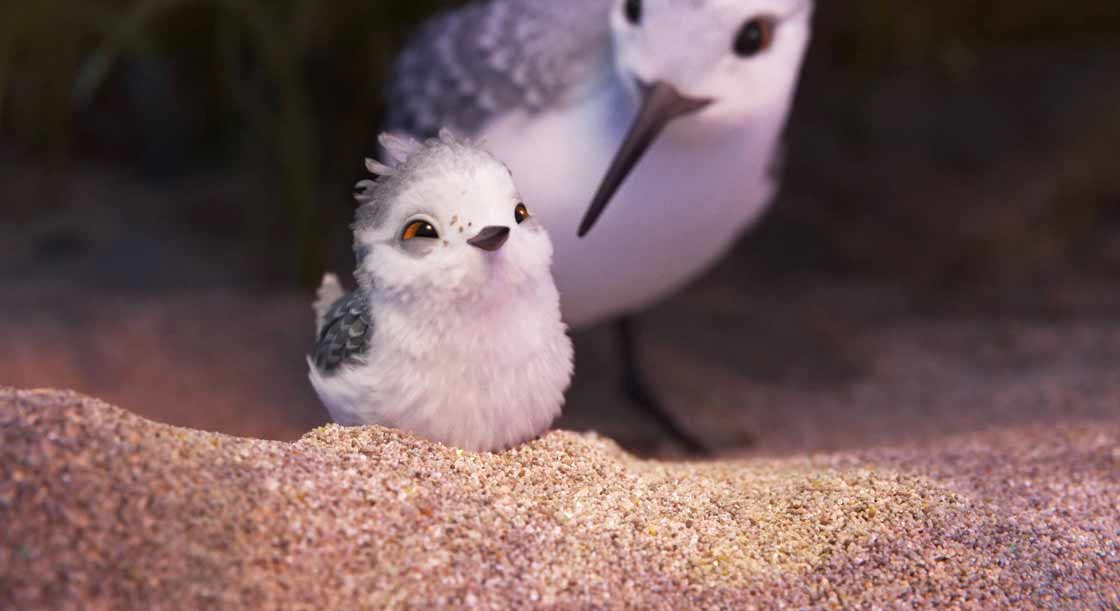 GFM: Did you face any fears taking the director's chair, and how did you overcome them? Were there any similarities between you and Piper in this regard?
Alan: I think it was very cathartic to work on this film and get those fears out there. And absolutely, I should play the one clip of the wave hitting. That is how every day of directing feels. You think you know what you are up against, and you get smashed, and you just try to get back up there. It was a challenge and I was nervous to do it. I guess at a certain point you realize that you are never ready, and you have to trust your crew and their support. It was a good learning experience in that way. The better directors that I have seen are the most vulnerable and open, so I try to follow suit. What is wonderful about animation – why I love this medium so much – is that filmmaking is collaborative and you have the opportunity to work with people who can make something better than you could imagine. Opening up and then letting others express themselves, while you get out of the way a little, is also important. I've learned that as a supervisor.
As far as film and storytelling goes, it is essentially a character piece and I am trying to build the story around the character emotionally. I didn't come up with the beach first and say, 'I have to come up with a story about a cool beach because I think it will be filmed really well.' I came up with a character who I felt I could relate to and express myself through. It became a really intimate story and meant showing the audience a world from a different light. I love films that are in control and allow the audience to enjoy each frame and think on their own. I had all these little bucket lists, and realized I have one shot at this kind of thing, I might as well just go for it.




GFM: What are your thoughts on the short film format and its place in the Pixar world?
Alan: Sometimes I hear people ask why we make short films, and to me that is like saying to a writer, why should you just write a novel? Why poetry? Why short stories? These are all formats, these are all forms of expressions that can say something different. What is amazing to me about short films is the poetic and lyrical quality. You can get right to the distilled emotional effect, which to me is really hard and also extremely rewarding. As an audience member, I really gravitate towards it. I think it's been a phenomenal year for short films. I have been so inspired by both live action and animation. There is a place for this art form and I really appreciate it.
The Oscar nomination means the most to me, and that the short film categories are being recognised and represented in such strong ways.
GFM: Great! Please describe the scene and moment when you first learnt that your film was nominated for an Oscar.
Alan: Sure. It's 5:30 in the morning in California. It's dark and I have my headphones on listening to a live feed, so I don't wake up my kids. And I am on the phone with my parents and sister in Canada - they are awake because of the time difference. When it happens, the kids eventually wake up. My son comes downstairs and says, 'Wow, are you in the championship?, that's how he regards it; all three of them are in soccer mode right now. And I said, yeah I'm in the championship.' He said something like, 'Well, as long as you just try your hardest, that is all that counts.' It was a great moment for me. It is exactly what I needed to hear. It's kind of a perfect feeling for how I felt making Piper. It's about my kids and I experienced it with my kids, so it kind of tied it up nicely for me.


Directed by Alan Barillaro