Directed by Dan Hodgson
Love is Blind is a short comedy. It's a fresh take on the traditional love triangle, but a lot of the joy comes from not knowing much about it… so that's all I'm going to say!– Director Dan Hodgson
SHNIT OPEN INTERNATIONAL, 2015, IN COMPETITION, SHNIT CINEMAS
DAN HODGSON | 7 MIN | UK | 2015
Interview by Jason Rogan
GFM:
What role does comedy play in your style of storytelling?
Dan:
I think there's humour in everything, and certainly everything that I want to do – whether that's dark or slightly twisted, humour is still very important to me. Even if I was going to do a drama, I would want humour in there. Ultimately I want to entertain people.
GFM:
Do you think the short film format and comedy go particularly well together?
Dan:Short film lends itself to concepts and small ideas. In some respects, you've got more freedom in short film with comedy as opposed to a feature film in that you don't have to explain every single thing that's in there. There's something quite liberating about doing shorts.
I really like stories and I really like working things out that are very self contained and work well on their own. With a short you can come up with a concept and work it out from there. With a feature, it's a different proposition in terms of making sure there is a proper narrative throughout.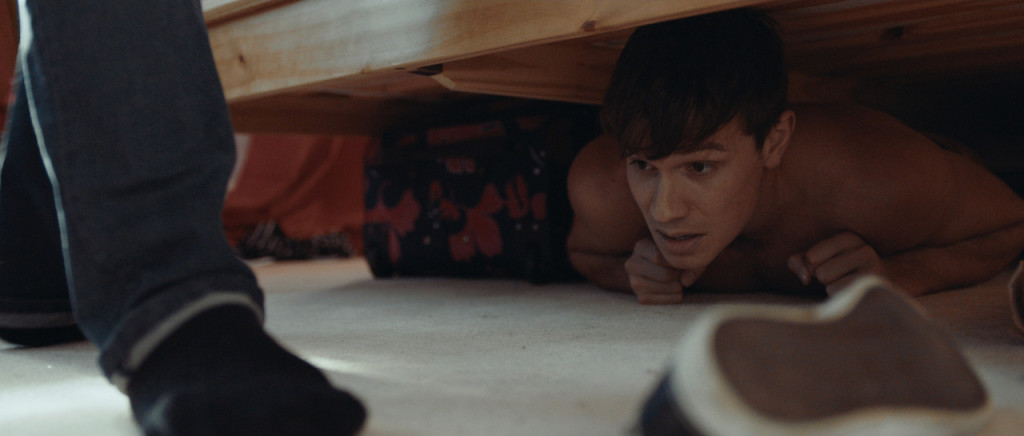 GFM:
You met your producer for this film two years ago while attending the Cannes Film Festival, and this year you returned to Cannes with a short film in competition. Tell us about that journey.
Dan:
I was out in Cannes two years ago with a friend who had made a short film. I just went as a bit of a jolly to be honest. I was in the U.K. pavilion, and met Lizzie Brown, my producer. We just clicked straight away. She's terrific in all aspects and runs her own production company, Bird Flight Films.
When we started working together I already had the script for Love is Blind, so I put it up for a short film fund in England and it got shortlisted. We developed it with the help of Film London. They didn't end up funding the film which we were obviously disappointed about, but Lizzie being Lizzie, said she was going to make it anyway. We raised half the money on Kickstarter, and the rest she put in herself, through the company. I'm delighted it's doing as well as it is.
GFM:
Do you have any advice to share on running a successful crowdfunding campaign?
Dan:
It's the second kickstarter I've done… and realistically you're predominantly targeting your friends and family. The biggest thing for me was doing a video to promote it, as I prefer being behind the camera. I had to try and coach myself through it, which was difficult. We kept it short and snappy and we had different awards we released at different times to try and pique interest.
One of the actors in the film is also a presenter, first and foremost, on U.K. television, so we tried to get tweets and retweets from his fanbase, although I think his predominant fanbase is 14 year old girls, so they don't usually have credit cards. Then it was just a case of continuing to plug it on Facebook. I dread to think how many friends have hidden me on Facebook as a result. We raised just under £5,000, and Lizzie put in the rest.