Directed by Gabriel Harel
Yùl, 13 years old, goes with his big brother Dino to conclude a deal with Mike, a thug escorted by his Argentinian mastiff. When things go wrong, a mysterious snake appears.
SHNIT OPEN INTERNATIONAL, 2015, IN COMPETITION
GABRIEL HAREL | 14 MIN | FRANCE | 2014
shnit Open Finalist – 20 minute category
Interview by Taryn Joffe and Kelly Powell
GFM:
How did the story come about?
Gabriel:
It comes about my youth in a countryside village, in south of France. It's not a true story, but it's inspired by many tales we lived with my friends during our youth. By the relationships between the young people, by our background : scooters, drugs and bad trips, tekno, rave party, dogs, no girls, stupid guys who become violents because they feel insecured…
With my friends we were always together, they are like my brothers. I left for my studies, they staid, and they continued tekno, drugs… I started to made some nightmares about my friends, their dogs… And crazy fantasy adventures, creatures and drugs.
This story comes about this background and my nightmares.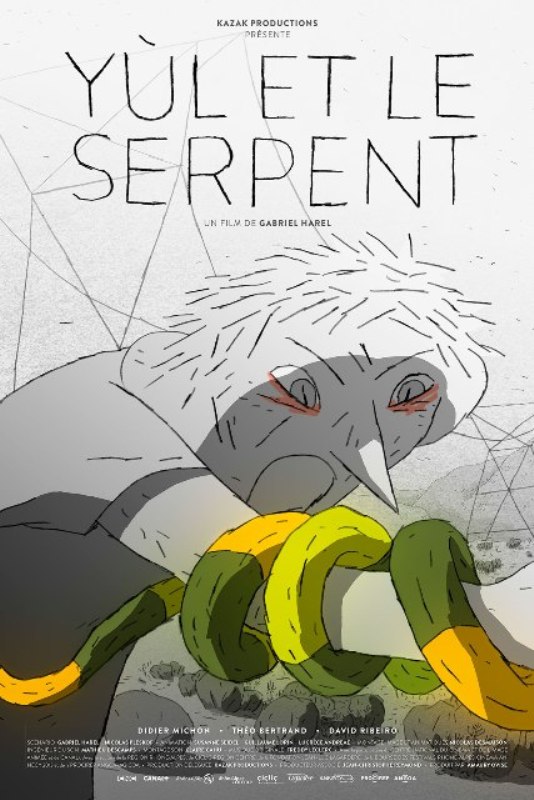 GFM:
Animation can sometimes abstract reality, and has a very different visual language, yet Yùl and the Snake feels very rooted in realism. How do you use animation to explore a different side to human experience and emotions?
Gabriel:
Yes, it starts very realistic : 2 young brothers, a stolen bag, a stupid guy with his car and his pitbull. Then it goes inside Yùl, with his emotions and imagination, and it goes to fantasy scenes. This film goes in a move from outside (outside Yùl, the others, the relation ship between people) to inside (Yùl's mind, emotions). It's how I like to tale human experience and emotions, in this move : outside to inside. I use fantasy and animation to translate the character's mind.
At the beginning, my drawings are realistic enough to belong to a real world. So I can speak about human psychology. Then, I can afford to introduce fantasy. Animation provides me to join fantasy and reality.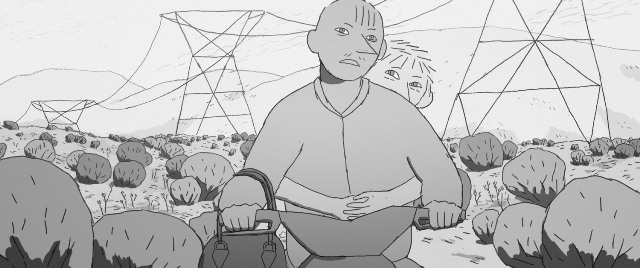 The serpent figure in mythology is interesting – on one hand it can be seen as menacing and evil, on the other it can symbolise eternity and a never-ending cycle (the ouroboros symbol). Can you tell us about the symbolic significance of the snake in your film?
In my film the snake's figure is inspired by a personal acid experience. But finally, it's not so far to those mythologic symbol, I think.
The snake is the figure of Yùl's rage or hanger. In children stories, and animation film, it's often a nice or funny strange big animal who helps the kid to grow and carry him up his fears. What I felt interesting was to make an evil figure who helps the boy.
Compared to the dog, who is a kind of machine without eyes and soul, the snake has terrible eyes ; he's as repulsive as fascinating. He is a kind of protector angel because he saves Yùl from the dog, and he helps him to fight Mike and save his brother. But he also brings Yùl to revenge, to violence, close to the killing.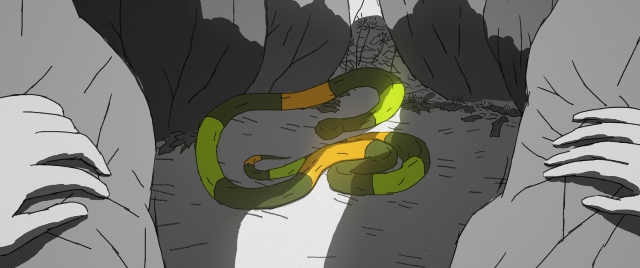 GFM:
When Yùl gets upset, the animation takes on a very fluid, dreamlike quality. Please tell us about the fantasy element of the film?
Gabriel:
The fantasy scenes are made like my nightmares, weird spaces, with strong feelings, hanger or affection…
GFM:
What do you enjoy most about working in short film format, and did you have any challenges creating Yùl and the Snake?
Gabriel:
I enjoyed to work with a little team, so we could talk, exchange about the story, the fabrication. It's also positive that nobody asked me to change scenes because it was too agressive, or to put nice colors or thing like that.
The first challenge I had, was to find the actors for the voices. It was very important to preserve the realism of those dialogues. I started the production with a casting. I cared a lot about the choice of actors. Then we went in my country side, close to my village with them, to play the scenes and record the voices in action. This is an important choice, to record the voices outdoor, in the natural background. It provides a real energy and a naturalism that is not possible to get in a studio.
GFM:
What message or feeling would you like audiences to take away from the film?
Gabriel:
Yes, it's more like feelings than message, but I like to think that the relation between the two brothers is emotional for the audience. It's the main element in the film, for me. So i decided to make the end longer than we thought at the script.
I made this film in the idea that brotherhood or friendship give strength to overcome obstacles.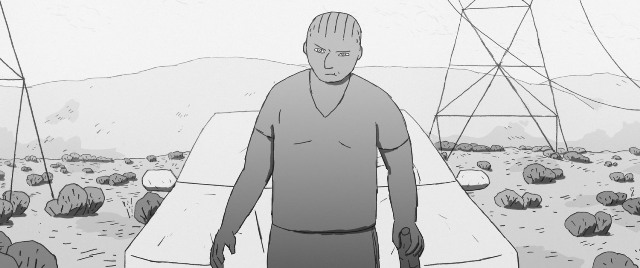 GFM:
What's next for you?
Gabriel:
Other animation fantasy films about human characters. I want to continue to explore this mix of live actions and animation, realism and fantasy. I am writing a short film, I hope to go in production soon. And maybe in some years I will be able to make a feature animation film.