Directed by Coralie Fargeat
SHNIT OPEN INTERNATIONAL, 2015, FEEL GOOD, A REAL TREAT
Through the Reality + technology you can now have access to an "improved reality."
The chip implanted inside your brain affects your senses to change the perception of
your image. Choose "who" you want to reflect, see you as you've always dreamed
of.

CORALIE FARGEAT | 23 MIN | FRANCE| 2014
shnit Open Finalist – 40 minute category
Interview by Kelly Powell and Taryn Joffe
GFM:
We've heard that you're a fan of genre films and filmmakers such as Lynch, Cronenberg and Carpenter. Can you please talk about sci-fi as an influence for this film, and perhaps which elements from these filmmakers have impacted you most?
Coralie:
Yes. Actually, I'm a big fan of science fiction, and all films that take you to another universe, out of reality. So, I enjoy Lynch and Cronenberg for that. My influence for this film was to question our relationship with other human beings in the future, impacted by what's already happened in society, with all the focus on appearance and always wanting to be more and more perfect. So, I imagined how it would be if we had the possibility to be exactly who we wanted to be. Would it be great or not? Of course, my vision is kind of dark because I think appearance is related to identity, and if you mess with that, I guess it brings problems than solutions.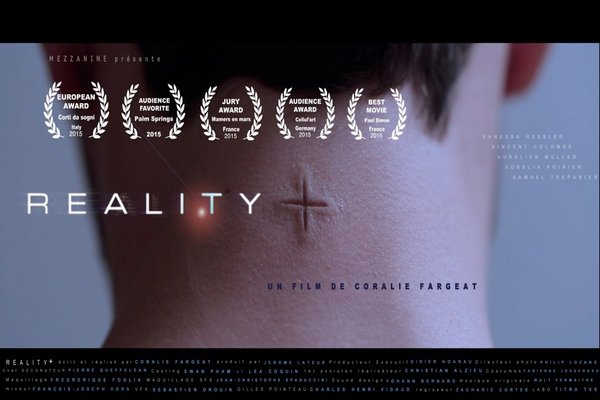 GFM:
Your film's aesthetic, as you've spoken about, clearly reflects this ideal reality made possible by the 'reality class', but as you said, your narrative tells a different, quite disturbing story. What inspired this particular idea?
Coralie:
I was really amazed by what I saw in the media about, for instance, Chinese girls making their legs longer through really painful and dangerous surgery. There were also Russian girls who had maybe 100 operations so they could look like a Barbie doll, things like that. I was amazed at how people were ready to suffer and put themselves in danger to get close to an idyllic, and kind of, utopian promise of happiness that doesn't come in the end.
So, I guess that's where the idea came from. That's why I think the film conveys a kind of violence, because I think this idea of changing yourself is really violent. And all the exposure to media that leads us to this point is also quite violent, especially for women.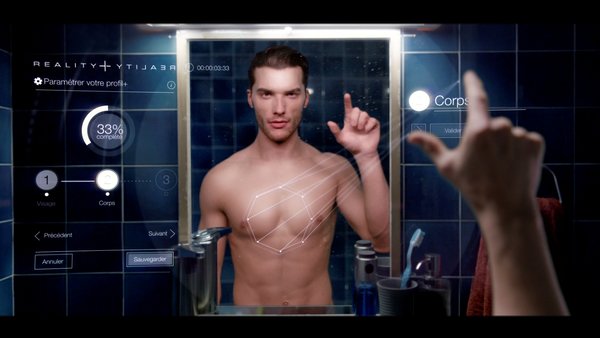 GFM:
What qualities did you look for when casting your actors?
Coralie:
When casting for the plus characters, I really wanted fake beauties, people that were so perfect that they were kind of scary, with everybody looking the same, like they came from the same mould. So, in the casting, the idea was really to be as far from reality as possible. For the real characters in true life, it was the opposite. I wanted all the imperfections that make you feel empathy and make people seem charming. So, it was kind of the opposite, perfections that make you uncomfortable versus reality that is full of life and imperfection, of course.
GFM:
Please speak about the unregulated, last longer procedure that Vincent's colleague undergoes. We first find out about this in the club with the "last longer" stickers, and it feels very seedy.
Coralie:
Yes, it's shady. The idea was to have a kind of underground community that was going beyond the limits. That's why it's kind of hidden in the club, and under the desk. It was the idea that, with this tip, people don't have to accept limits anymore. They always want more, as is the case in real life; they're ready to go further and further to have it all. It was also the idea of an addiction, that when you start to get used to the reality + "you", you don't want to become the real "you" again. You want to get rid of it forever.

GFM:
Usually people are highly discreet about the lengths they'll go to for an improved appearance, yet the "+" scar left by this procedure is clearly visible. Can you talk about your thinking around normalisation of reality+?
Coralie:
I guess in the film I wanted the idea that people are not really surprised anymore, and they only recognize each other with the + sign. It was also the feeling of being part of a community, and being part of the best one. But at the same time, it was like plastic surgery that people don't talk about to each other, like the male and female protagonists don't talk about it. They know, but they don't discuss it.
GFM:
How did you conceptualise your production design to create this future world, and what made you choose this look and feel?
Coralie:
It was a big part of the prep work, because in sci-fi, the whole universe and the artistic direction is important to make the world credible. If there is something that doesn't work, everything falls apart. You don't believe it anymore. So, I had to think about what I could do with a limited budget, because I couldn't do everything, like futuristic cars. For me, it was really important to keep the living part of the city, I wanted a future that stayed alive. I wanted the idea that the town is growing and growing, but we keep the living heart of the city. There was the idea to add futuristic buildings to the historic part of Paris, to show the idea that the town is really expanding.
It was also important for interiors, such as Vincent's apartment, to have a space where you can't breathe. The colors are kind of dark, and with the sound, there is something overwhelming for the character. It's a kind of refuge place, somewhere he hides, and when he goes outside, he wants to be good-looking and beautiful. We also worked on the sound design to have all the music sound somewhere between nowadays and the futuristic world in maybe 20 or 30 years.
We worked together with the art director, DP and editors to choreograph everything with the budget limits we had. And that's something I'm really, really happy about, because people say, "We believe in the futuristic atmosphere."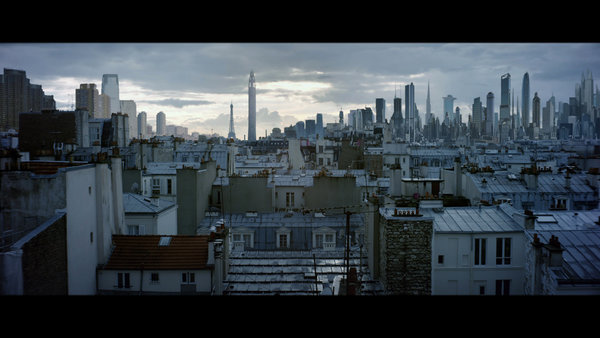 GFM:
What message would you want audiences to take away from this film,
given our society's obsession with ideal standards of beauty?
Coralie:
I guess it's maybe an idyllic message, but I think it's really true that appearance isn't everything. I know it's really hard to believe today, because of the influence looks have on us. So, yes, I think that I wanted the "real" characters to look attractive. I wanted empathy to be with them. We love them because they're true, and they're real, and they're imperfect, and they are living, and they are what they are. I think it's more and more difficult to accept who we are.